Ống đệm trung gian Flexo Bridge
I. What are flexographic bridge sleeves?
Flexographic bridge sleeves, also typically known as flexographic adapters or flexographic bridges are pneumatic or hydraulic adapters used in the flexographic printing industry to 'bridge' the gap between a printing press mandrel and the inner diameter of the printing sleeve. They are designed to increase the size of the mandrel in the press and are especially used when the outer diameter for the printing is big. Bridge sleeves are also known as adapter sleeves or format adapter sleeves, mounting adapters, carriers, bridging sleeves or flexographic bridge mandrels.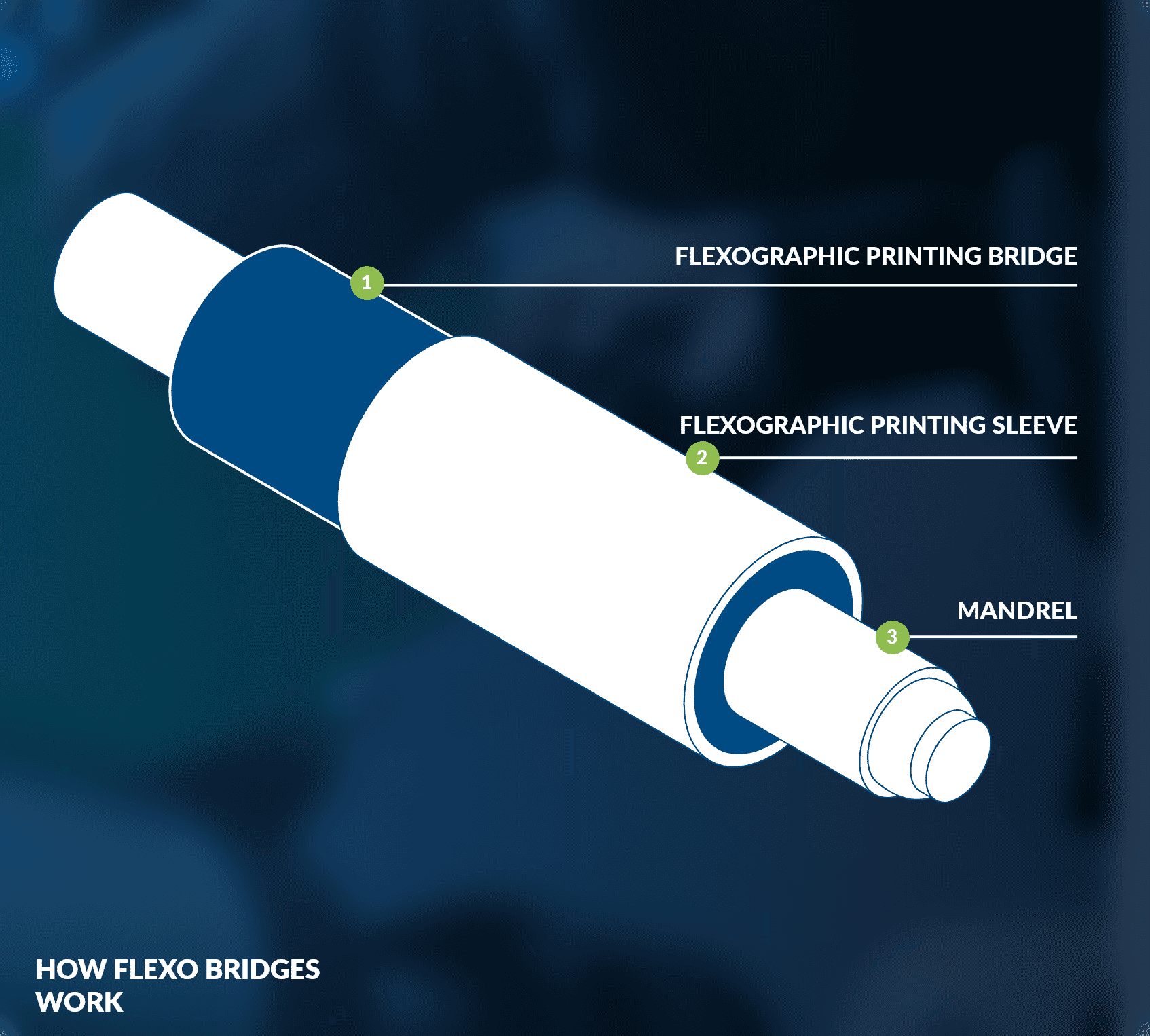 II. What different types of printing bridges do we offer?
1. TECH BRIDGE
CUSTOM ADAPTERS TO HELP IMPROVE YOUR PRINTING PROCESS
Tech Bridge is our most advanced bridge/adapter in the market. It is made using high-quality materials such as Dyneema for the inner layer and epoxy resin-infused fibreglass. This combination makes the bridge extremely durable and resistant to chemicals, heat and the stresses faced in a printing press.
The Tech Bridge is extremely durable and sturdy. Built using the best methods and materials means it will outlast other bridge easily saving your cost.
Air-Through or Separate Air
The Tech Bridge is available in either Air-Through or Separate Air. Furthermore, miller valves allow you to mount any sleeve width with easy
Metal outer ring standard
The outer metal rings now come standard. This prevents edge damage, both accidental & due to use.
2. COMPRESSIBLE BRIDGE
OPTIMIZED FOR IN THE ROUND SLEEVES
Tech Bridge Compressible is used to print with In The Round sleeves ('ITR'). These 'seamless sleeves' are generally used with traditional plate mounting for designs that need a continuous background colour, such as white or varnish. The soft outer layer of the adapter provides the compressibility needed for the required print impression.
For ITR Sleeves
Amazing durability
Hardness Options Available: 40, 50, 60 ShA
III. Why is TECH SLEEVES different?
TECH SLEEVES is a flexo sleeve manufacturer. At Tech sleeves®, we offer plate sleeves and bridges (adapters) for the global flexographic printing industry. We believe that we can increase the printing quality and overall efficiency through a combination of experience and innovation.
Features and Benefits of a Tech Bridge
The use of high-quality raw materials such as the combined arrangement of vinyl-ester epoxy resin with Tech Core material and Dyneema, provide high flexural strength and form stability to Tech Bridges, reducing the bouncing while at the same time ensuring a better resistance.
IV. MATERIALS
Contains Dyneema that offers maximum strength with minimum weight and great abrasion resistance.
This is a compressible foam layer that offers high rebound resilience and enables the sleeve to expand and have a perfect fit.
Contains Sphere Core SBC which is a stitch-bonded material based on fibreglass. It offers great pressure resistance, water resistance and stability.
Contains Vinyl-Ester resin reinforced by a sandwich construction of fibreglass material which has great temperature and chemical resistance. See compressible bridge for ITR adapters.
——–
GUDi is the genuine & exclusive distributor of sleeve and adapter/bridge from TECH SLEEVES (Netherlands) for industrial flexo printing. Please contact hotline: 0906.662.990 | hiep.nguyen@gudi.vn for direct support & quotation.
Images of some orders delivered to wide-web Flexo customers in Vietnam:

---
SẢN PHẨM KHÁC
Ống in flexo sleeve
Ống in sleeve được sử dụng để dán bản in trên máy wide-web flexo. Ống sleeve giúp tăng chất lượng & hiệu quả chi phí in.
Sản xuất tại Hà Lan
Trục Anilox Tiêu chuẩn
Các trục anilox tiêu chuẩn – Trục khắc lục giác 60 độ – tạo ra nhiều tế bào lấy mực và phân phối mực hiệu quả hơn trong cùng diện tích tiếp xúc. Trục Anilox khắc lục giác 60 độ đã trở thành lô tiêu chuẩn trong in ấn Flexo.
Sản xuất tại Đức