BOPP Anti-Scuff Matte Film
Unlike a traditional matte film, this film provides excellent resistance to scuff marks which could develop during production, transportation and handling of the pack. The matte surface of the film is also ideal for post laminating procedures such as UV spot coating, hot foil stamping, embossing etc. Apart from the luxury packaging applications like premium/luxury liquor, perfume, watches and jewellery packs/boxes, this film is best suited for laminating packing boxes of electronic goods like mobile phones, tablets, power banks…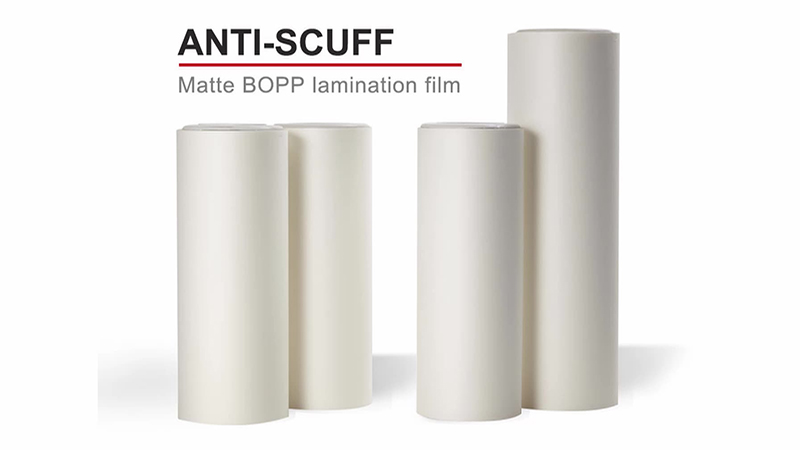 Description
It is BOPP based, one side anti-scuff matte coated and other side extrusion
coated, both side treated thermal laminating film. Film has extrusion coated
surface with low temperature melting resin, which enables the lamination of film to
paper products by heat and pressure.
Features:
Excellent scuff/scratch resistance (anti-scuff)
Natural matte finish
Suitable for UV-coating, embossing and hot foil stamping
Fibre-tear bond strength with paper
REACH, RoSH certificates
Applications:
Thermal lamination with all kinds of printed, unprinted papers, cosmetics & liquor cartons, coffee table books, magazines, brochures, manuals, shopping bags, wedding cards, gift boxes, diaries and specifically recommended for luxury packaging.
Operating hints:
Thermal scuff resistant matte film can be laminated with the temperature range of 100 to 120 deg C. However the optimum conditions may be selected based on the lamination speed (Dwell time) and dimensional stability.
Please make sure that the printed surface is well dried before lamination.
Strongly recommend to handle with care and cleanliness as it may spoil it's look by rough handling, dust contamination and scratches.
It is advisable to cool sufficiently one surface before proceeding the lamination to other surface
———-
GUDi supplies quality thermal BOPP anti-scuff films to big printing & packaging customers in Vietnam. Please contact hotline: 0906.662.990 | hiep.nguyen@gudi.vn for further information & samples.
---
RELATED PRODUCTS
Flexographic Printing Sleeves
Flexographic printing sleeves are used to mount printing plates. They have a major influence on the efficiency & the quality of the print
Made in Neitherlands
Flexographic Printing Bridges
Flexographic bridge/adapter is used in the flexo printing to 'bridge' the gap between a printing mandrel and the inner diameter of the printing sleeve, especially for big repeat sleeves.
Made in Netherland
EF Cooling EVO Series chillers
EF Cooling EVO Series chillers are advanced cooling systems specifically designed for use with digital presses, particularly HP Indigo presses.
Made in Switzerland