Plate mounting tape 0.5mm ORAFLEX 116XX
The ORAFLEX® Cushion Tapes 0.5mm are produced using odour-free pure solvent acrylate adhesives featuring the latest ORAFLEX® product designs with several adhesive types offering different levels of bonding and re-positionability. These adhesives are also designed to be resistant to the typical solvents contained in inks used in flexographic printing. This tape rage is mainly apply for wide-web & mid-web in flexo printing.
ORAFLEX® Cushion Tapes' Compressible Foam and Film Reinforcement Construction
The ORAFLEX® Cushion Tapes' compressible foam and film reinforcement construction technology guarantees an optimized thickness accuracy, with minimal thickness tolerances (+/- 0.02 mm).
The flexible PE-film reinforcement reduces dot gain by perfect cushioning the applied impression.
The flexible product design also fully compensates expansion of thin-walled sleeves and ensures best bonding also on scratched sleeves.
It is interesting to note that the medium ORAFLEX® Cushion Tapes (1165X) offer a very wide range of linear dot gain making the hardness choice very easy – one medium tape can be used for most combinations and printing requirements.
With the ORAFLEX® Cushion Tapes, consistent superb quality is ensured for your entire print run. The 0.5 mm tapes are available in three hardnesses, and designed to give good tolerance on pressure settings so that the optimal impression can be set very quickly. Now also available with five different adhesion levels. With the ORAFLEX® Cushion tapes, the plate is effectively protected from distortion factors, providing a great print result. Also issues such as bouncing stripes caused by press vibration at high speeds are avoided.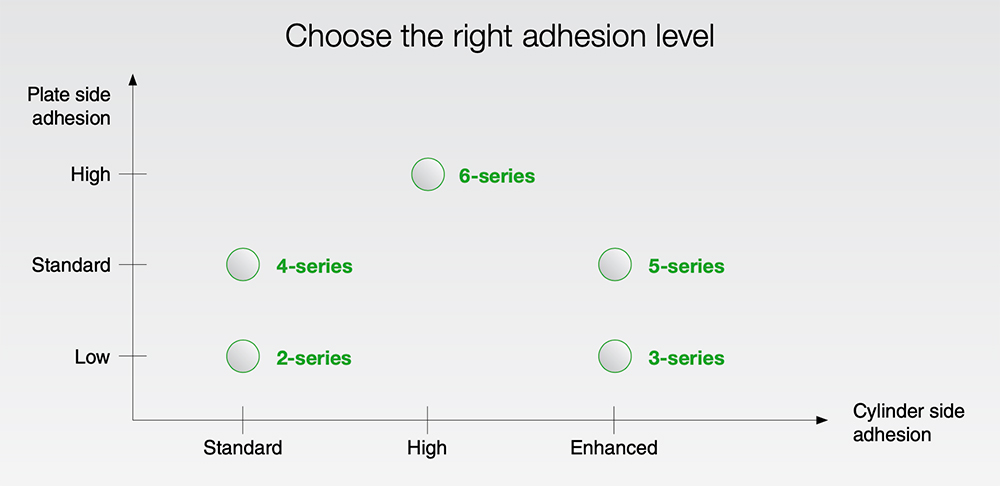 GUDi is genuine and exclusive distributor in Vietnam of flexo mounting tape – ORAFLEX 0.5mm – from ORAFOL (Germany). There are some types of adhesion & hardness for different printing requirements: solid, combination or screen. Please contact hotline: 0906.662.990 | hiep.nguyen@gudi.vn for further information & samples.
Product pictures at GUDi:
---
RELATED PRODUCTS
Flexographic Printing Sleeves
Flexographic printing sleeves are used to mount printing plates. They have a major influence on the efficiency & the quality of the print
Made in Neitherlands
Flexographic Printing Bridges
Flexographic bridge/adapter is used in the flexo printing to 'bridge' the gap between a printing mandrel and the inner diameter of the printing sleeve, especially for big repeat sleeves.
Made in Netherland
EF Cooling EVO Series chillers
EF Cooling EVO Series chillers are advanced cooling systems specifically designed for use with digital presses, particularly HP Indigo presses.
Made in Switzerland