EF Cooling EVO Series chillers
Why choose HP & EF?
EF cooling EVO chillers are specifically designed & certified for use with HP Indigo digital presses. By using energy conscientious components, EVO chillers are highly efficient and built for long-lasting, reliable service at lowest cost of ownership. EVO chillers have an "A" energy efficiency rating. They incorporate the latest rotary scroll compressors, resulting in substantially better performance than conventional chillers on the market. EVO chillers perform at 100% capacity at ambient temperatures up to +45°C (+113°F). EF EVO chillers utilize a capacity regulation that reduces energy consumption during low-load and standby conditions. It sequentially cuts off power to the compressors and then adjusts to the right capacity to reduce the energy consumption while maintaining a stable water temperature. It also increases the overall service life of the chiller for many years of trouble-free operation. ef EVO chillers also incorporate the intelligent EF IQ controller with exclusive software that regulates all activities appropriate to the constantly changing requirements of the digital printing process.
EVO chillers achieve excellent reliability and cooling capacities by using high capacity heat exchangers and additional sub-cooling within the condenser. These higher capacity chillers employ a multi-compressor design together with an electronic expansion valve to reduce the energy consumption. All data are processed just in time and controlled by the IQ PLC controller resulting in longer printing times and component life also. The integrated water filter & water bypass valve helps to secure the hydraulic side of the digital press. Single stand-alone EVO 20 & 45 chillers are available for all HP Indigo press families, while the EVO 90 & EVO CENTRAL have no size limits to handle all your presses with one system to keep all your presses & consumers printing. All EF cooling EVO Chillers conform to CE and are designed and Made in Switzerland.
1. EVO 20 – Digital Printing Chiller
The EVO 20 is tailor made for the Series 2 & 3 range of Hewlett Packard digital printing presses.
Robust, reliable and remarkable power at low cost. No compromises were made during the development of the EVO 20 for HP Indigo S3 presses.
integrated ef cooltronic PLC with real time statistics of the relevant refrigeration parameters
larger condenser with closed loop regulated fans for energy savings
high quality components which guarantee reliable operation even at extreme ambient temperatures
All this, in a conveniently small design, makes the EVO 20 the first choice for printing shops expecting nothing but the best from their cooling system.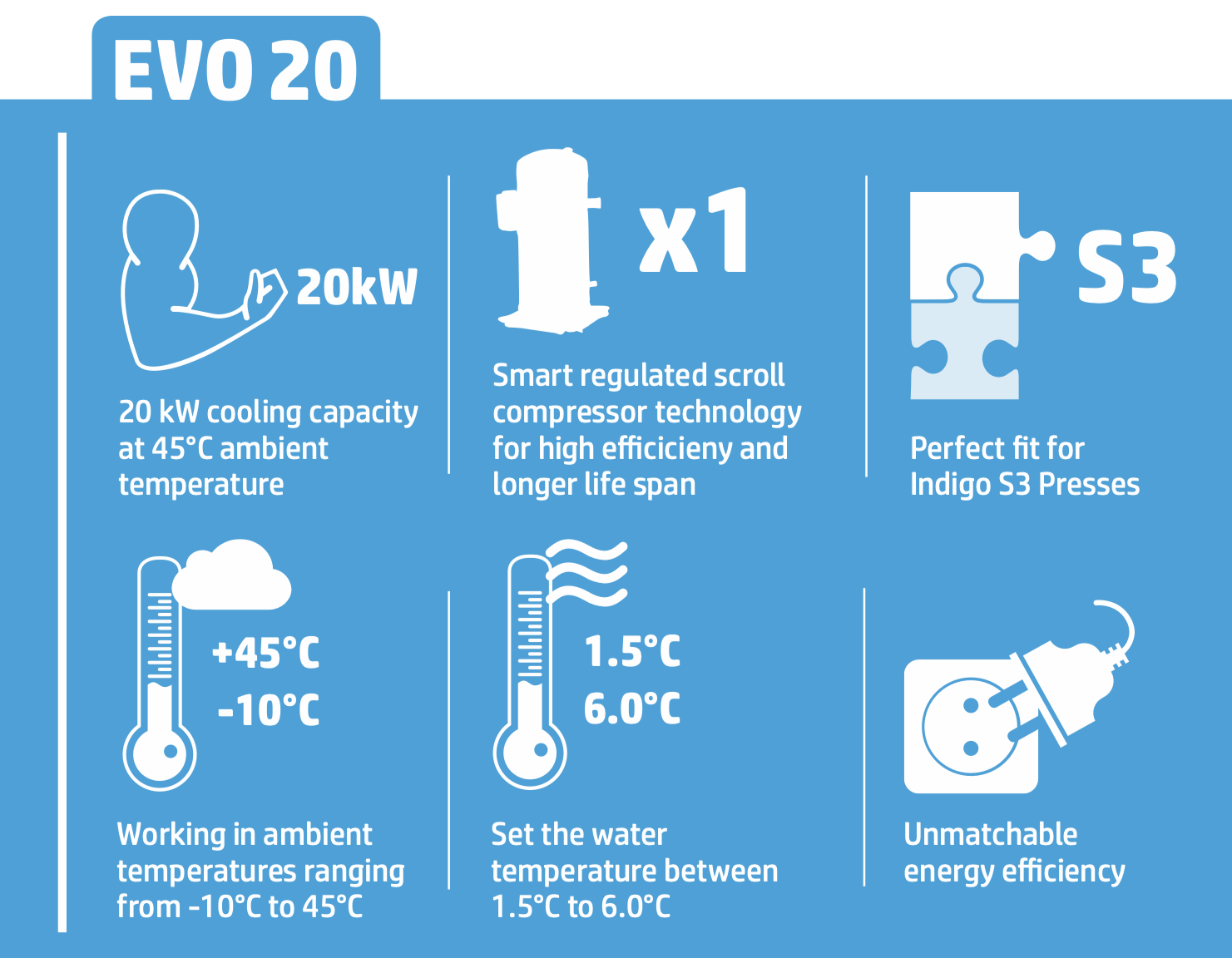 2.

EVO 45&60 – Digital Printing Chiller
The EVO 45 is tailor made for the Series 4, 5 & 6 range of Hewlett Packard digital printing presses.
The EVO 45/60 is neither a conventional chiller nor a bigger sized EVO 20. It's a meticuclously optimized cooling solution for the HP Indigo Series 4, 5 & 6 presses.
Praised by our customers, the EVO series not only provides an outstanding power to space ratio, it goes beyond that. Thanks to its smart double compressor regulation system, the EVO 45/60 is 16 to 56%  more efficient than conventional chillers on the market and are fully conforming to the latest Eco Design technology directives. Combining smart regulation with the EVOBOX freecooling solution, you will have a cooling powerhouse with lowest operational costs possible.
3.

EVO 45&60 – Digital Printing Chiller
Combine the work load
The EVO CENTRAL is the best choice for printing shops with more than one press. Instead of using separate chillers, the EVO CENTRAL provides combined cooling capacity to multiple presses. By doing so it ensures a more reliable and mantainable press operation and saves valuable production floor space.
With the security provided by the dual refrigeration circuit design and its outstanding energy efficiency you can lower your energy bills at least by 40% and more, depending on your local climate conditions.
Vui lòng liên hệ hotline: 0906.662.990 | hiep.nguyen@gudi.vn để được tư vấn chi tiết.
---
RELATED PRODUCTS
Flexographic Printing Sleeves
Flexographic printing sleeves are used to mount printing plates. They have a major influence on the efficiency & the quality of the print
Made in Neitherlands
Flexographic Printing Bridges
Flexographic bridge/adapter is used in the flexo printing to 'bridge' the gap between a printing mandrel and the inner diameter of the printing sleeve, especially for big repeat sleeves.
Made in Netherland
Standard Anilox Rollers
The standard chrome/ceramic anilox – 60 degrees engravings – offers more cells to be compacted in an area & provides the most efficient distribution of volume. The 60 degrees anilox became the norm in flexo printing.
Made in Germany