Positioning packaging films for the future
Manufacturers detail the latest technical developments in packaging films, and explain what label converters need to know when handling the next generation of packaging films.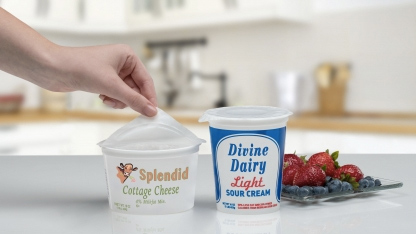 With flexible packaging adoption continuing to grow around the world, manufacturers of packaging films are having to develop new structures and compositions to suit the ever-more demanding requirements of brand owners and consumers, and the use of their products in increasingly sophisticated ways. From fresh and frozen produce, to ready meals, pet food, chemicals and industrial products, there are few applications where flexible packaging has not found a use.
'More and more people are looking at flexible packaging,' notes Pramod Sirsamkar, president, technical and new product development, Films at Uflex. Tom Dupont, product development manager at acpo, adds, 'We're finding many of our customers who are strong in labels are discovering packaging. Flexible packaging used to be a clear bag with a label on it, but now the bag is the label.'
Trends
'Developments have been driven by three pillars – film manufacturers, converters and brand owners/end users,' continues Sirsamkar. 'If you look over the last 35 years, much of the demand, developments and innovation have focused on the cost of packaging, of the laminate, of the film. While cost will remain important, factors such as performance, food safety, convenience and sustainability will drive the market going forward.'
Innovia Films identifies the quest to protect products and extend product shelf life as a major ongoing focus within the packaging arena, translating to a need for better barrier protection from aromas, moisture or even mineral oil migration. Additionally, new constructions are being reviewed to see what film combinations are possible that provide the same high barrier levels achieved without using foil in the structure.
Amanda Whaley, product manager in the Torayfan division at Toray Plastics (America), details the end user's need for high performance films as a key driver for the market. 'End users continually seek improvements in moisture barrier, oxygen barrier, seal strength, print quality and adhesion properties, or any combination of those properties.
'Another area where we see growing interest is clear barrier films, a trend driven by consumer demand. Customers want to be able to see the food product through the packaging. Satisfying that desire requires the use of a clear, robust film with barrier levels that are on par with those of metalized film, which is opaque and offers excellent barrier.'
R&D
To meet such demands, suppliers are developing and extending the capabilities of their products, as Taghleef's Extendo and Nativia show. Extendo brings together the advantages of BOPP films with the barrier performance typical of other high barrier polymers, delivering packaging weight reduction and improved recyclability. Nativia are biodegradable films made from renewable resources (PLA bio-based resin), and in many applications can replace oil-based plastics like polypropylene, polyester or polyethylene, providing two key environmental advantages: bio-based origin and compostability.
Uflex's extensive R&D program has resulted in: F-PGX, the thinnest PET AlOx film available globally; F-PGB, a transparent BOPET film with an oxygen transmission rate less than 6cc/m2/day; B-TUB-M, a super barrier BOPP film; and B-MHR, a matte BOPP film with high heat resistance.
Toray Plastics (America) recently expanded its line of clear barrier films with the commercialization of Torayfan CBS2 BOPP film, a PVdC-replacement film with enhanced oxygen and moisture barrier properties. Further, its new Barrialox SBR2 is a high barrier, transparent, aluminum oxide-coated polyester film for retort pouch applications. A new white polyester lidding film, LumiLid XL7W, is suitable for dairy applications, and provides excellent barrier and a strong, secure seal, yet offers the consumer the convenience of a clean, easy peel. Similarly, KM Packaging's KPeel 3G is a printable, heat sealable polyester film that peels cleanly from trays in ambient or chilled conditions, and is said to provide superior cold peel in one piece without shredding, even direct from the freezer. It is also suitable for microwave and conventional oven cooking. K Reseal is a more recent development from KM Packaging, offering resealing multiple times, with added optional features of anti-fog and laser perforation.
Acpo and Innovia Films are using coatings to deliver enhanced performance in films, with Sun Chemical supplying its SunBar oxygen barrier coatings to acpo, which is coating and supplying various films in order to meet the growing demand from brand owners and flexible packaging converters for high barrier transparent packaging. Innovia Films' Propafilm RCU and RBCU have been engineered using proprietary coating technology to provide a barrier to mineral oil hydrocarbons and mineral oil aromatic hydrocarbons. Both grades have been shown to provide two years of protection against mineral oil migration, although Wayne Middleton, global leader, new product and market development at Innovia Films says, 'the indications are that the protection timeline will increase to three years.'
Technical requirements
As with suppliers in the label films market (see feature on p79), many of the demands placed upon packaging films along the supply chain can seem counterintuitive, as KM Packaging commercial director Graham Holding explains with the example of lidding films. 'There is a constant battle between consumer demands for a securely sealed product that doesn't leak and retailers wanting consumers to have a pleasant and convenient peeling experience. Food manufacturers are also looking for a secure seal to ensure there is no leakage in the supply chain.'
Innovia Films explains that such seal integrity must be coupled with the need to seal at lower temperatures and faster speeds, resulting from increasing line speeds, while modern films for printed packaging are also under more pressure not only to perform better functionally but also be better from environmental and regulatory, specifically food contact, standpoints.
S Satish, global head of sales and marketing at Cosmo Films, states that to be considered safe for food packaging applications, films must be virgin food grade, and be compliant with global standards for food contact materials laid down by regulatory authorities like FDA and the European Commission Directorate-General for Health and Food Safety. Whaley says that FDA compliance for food packaging applications can generally be achieved by ensuring that raw materials used are adequately compliant for the target applications. She adds: 'When applications require additional certification, consultation with leading food compliance experts provide assurance that our film is fit for use. Other technical requirements around barrier, machinability, and sealability are highly dependent upon the end user's application and package format. Those are addressed with the end user on a case-by-case basis.'
Collaboration
With smaller formats and shorter runs taking a large share of the market, narrow web flexible packaging will only have a bigger role to play in the future.
The growth of narrow web flexible packaging has brought about its own challenges, which the whole supply chain is rising to the challenge of. From HP Indigo and its wider web width 20000 digital press, Nilpeter's FA-6* flexo press and Bobst's UV Track technology, to food safe inks, new supply models and narrow web converting equipment, each step along the supply chain is doing its bit to facilitate the growth in narrow web flexible packaging. And these developments rarely occur in isolation, as best highlighted by HP Indigo's Pack Ready initiative, combining the digital press manufacturer, converting equipment specialist Karlville and multiple film manufacturers.
'We find that converters that collaborate closely with us are generally quicker to market than those that go it alone,' states Whaley of Toray Plastics (America), a member of the aforementioned Pack Ready community. 'Print work and lamination bonds are dependent on the film and converting process. It's a two-way street. Working together makes the process much more efficient. As film manufacturers press for extremes in the barrier and sealant performance desired by end users, converting may not be as robust as it might be with a simple, less effective commodity film. Collaboration will help the converter find their optimum conditions much more quickly, which is more important than ever.'
The collaboration between Sun Chemical and acpo reiterates this; with only a few converters having the capability to coat thin films, only a limited number were able to take advantage of its SunBar barrier coating technology to date. This partnership means converters will have access to SunBar without needing to make capital investments in a coating unit. Capital investments is a point Dupont returns to, with acpo actively looking at how packaging is constructed using narrow web technology.
'Sealing is the big difference between labels and packaging, and to do it effectively in narrow web you need to supply materials that can be run to output a roll that is then put straight onto a bag or pouch machine. All narrow web presses have nips and narrow web printers have the know-how to laminate for self-wound. We want to help label printers turn their label presses into packaging machines, supplying both sealing and printing webs.'
Specification
Today, a wide range of films are available for specific needs and products. 'Converters need to pick the most appropriate film or combination of films to design a laminate structure which is best suited to the product, desired pack aesthetics, expected shelf-life and target packaging cost,' comments Satish.
Innovia Films states that printers and converters need to have an in-depth knowledge of the technical aspects of their supplier's films, to ensure they select the right film for the right application, and need to understand the product itself, its shelf-life and storage requirements, what food contact compliance is required and for which countries. 'A good understanding of fitness-for-use requirements of the application is essential in order to determine factually what is acceptable or not regarding the performance specifications,' says Whaley.
Sirsamkar says that work is ongoing to provide even more options, although notes, 'It is a challenge to bring products to market that meet all of the different requirements and performance characteristics demanded by film manufacturers, converters and brand owners/end users.'
Source: www.labelsandlabeling.com
---